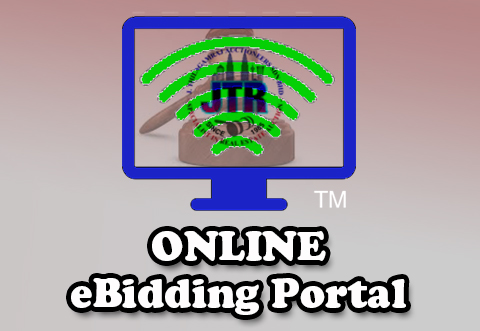 Buyer's Guide for Online eBidding
My first time and I'm not sure how to bid online.
Is it possible to bid via Online Bidding (when offered)? If you are unable to physically attend one of our auctions, please refer and contact our office and enquire if Online bidding is being offered on that sale. If Online bidding is permitted, then you need to follow the undermentioned steps:

Registration of Online eBidder.
Step 1:
Before you can bid via Online Bidding, you must register to bid online. Please note that you must be registered prior to the start of any Sale or you may not be able to bid online in that Sale.

Step 2:
In order to register, please contact us by phone or email to provide your details plus necessary documents and the amout of deposit required in order for you to qualify for bidding.
Step 3:
All intending online bidders are required to deposit an amount according to the Terms and Conditions of sale in the Proclamation of sale. The online deposit payment shall be made via local bank transfer and provide the proof of transfer latest by 6.00pm at least one (1) working day prior to the auction date.
Step 4:
In order to participate in online bidding, after submission of auction deposit, you must obtain your login password from us to login into JTR Auction eBidding portal. You will receive an email notifying your login password prior to the auction.
Step 5:
Once you have registered you should keep your email account and password details strictly confidential and you must not permit any third party to use or access your account on your behalf or otherwise. You will be liable for any and all bids made via your email account.
Step 6:
Once the auction begins, you are ready to bid and press the submit button.
Step 7:
A notification will be sent to you to inform if you are successful in being the highest bidder. You will be informed further that you are required to execute to sign the Memorandum of Sale and to pay the additional fund (if any) for the increment of purchase price plus an amount as payment for stamp and Memorandum perfection charge. The Auction Deposits received from unsuccessful bidders will be returned.