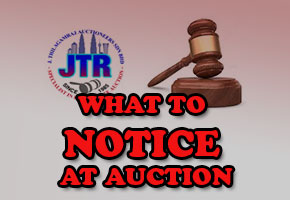 WHAT TO NOTICE AT THE AUCTION.
Always check the specific deposit amount requested and the Bank Draft is correctly payable




Unprepared and unattentiveness during call bids at the auction, will make you lose a probable opportunity. 




Certainly do not bring Personal or Company cheques as Auction deposits




To be present  earlier to avoid dissappointment.




It is important to listen to the Auction proceedings very carefully to avoid unawareness.




Observe the details provided in the Memorandum of Sale are correct before endorsement.




Necessary to switch off or vibrate  the handphone to avoid interuption during auction.