JTR AUCTION HOUSE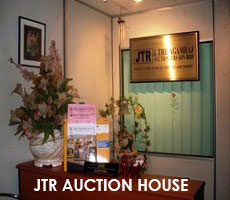 JTR AUCTION HOUSE (Manage by J.Thilagamraj Auctioneers Sdn Bhd) is Malaysia's prime and exclusive Auction Sale Company. JTR Auction House has been exclusively practicing Auctioneering Business for the past 36 years. Established in 1985, JTR Auction House specializes in Real Estate Auctions and is among the pioneers in the Auction Sales industry in Malaysia.
With significant expertise and specialization in conducting Auctions, we have conducted Auction Sales successfully and effectively and we are highly appreciated by our clients.

JTR Auction House provides complete Property Auction Sale & Services with professional staff and knowledgeable auctioneers whose primary goal and objective is to obtain the greatest ringgit value for properties. Over the past 34 years, JTR AUCTION HOUSE has successfully marketed real estate properties through public property auction sales in Malaysia which consist of wide range residential, commercial and industrial properties.