ABOUT US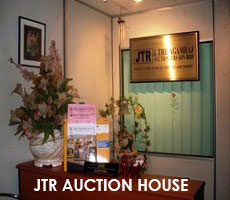 JTR AUCTION HOUSE (managed by J.Thilagamraj Auctioneers Sdn Bhd) ) is Malaysia's prime and exclusive Auction Sale Company. JTR Auction House has been exclusively practicing Auctioneering Business for the past 32 years. Established in 1985, JTR Auction House specializes in Real Estate Auctions and is among the pioneers in the Auction Sales industry in Malaysia. With significant expertise and specialization in conducting Auctions, we have conducted Auction Sales successfully and effectively and we are highly appreciated by our clients. JTR Auction House provides complete Property Auction Sale & Services with professional staff and knowledgeable auctioneers whose primary goal and objective is to obtain the greatest ringgit value for properties. Over the past 32 years, JTR AUCTION HOUSE has successfully marketed real estate properties through public property auction sales in Malaysia which consist of wide range residential, commercial and industrial properties.
JTR AUCTION HALL
We have a well equipped Auction Hall to conduct all the public property auctions for our clients. Our exclusive Property Auction Sales Software will cater all types of Property Auctions including Mega Property Auction Fairs. The software engaged by us for property auctions is designed proven to promote the auction properties and creates an excitement among bidders to bid each other competitively to capture highest at the auction sales, which in return benefits our clients. Our Auction Sales marketing techniques are adapted to effectively reach the targeted market segment as determined by the positive characteristic of the properties.

STATE LICENSED AUCTIONEER
We are authorised and Licensed to conduct Property Auctions Sales in Malaysia for 8 States of Malaysia including WILAYAH PERSEKUTUAN KUALA LUMPUR, SELANGOR, NEGERI SEMBILAN, PERAK, MELAKA, PAHANG, KEDAH, and PULAU PINANG.